The teen-targeted video-chatting app, Houseparty, has exploded over the past few weeks, as housebound kids turn towards their screens to connect with friends. But privacy concerns abound, amid increasing reports of data breaches, geo-location risks, and porn-bombing.
Like Zoom, Houseparty is a social networking app that allows users to connect with up to eight others. Members of the chat are then split up on screen to make it feel like everyone is in the same room.
So far, it is familiar. But here's what's different, and why kids are crashing Houseparty in huge numbers right now.
Unlike more business-oriented video-conferencing applications like Zoom or Skype, Houseparty features in-app games and trivia in a range of fun categories, from entertainment and superheroes to geography and sports. This might be because the app is owned by Epic Games,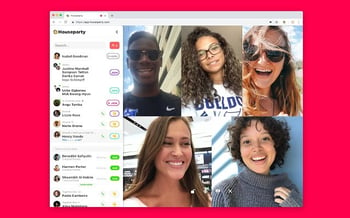 the creator of Fortnite.
The "house party" theme continues with a feature that lets users "lock the room" they are chatting in, blocking others from joining in on the chat. It's a feature that has both risks and benefits—opening the door to social sidelining and passive-aggressive cyberbullying while also affording some privacy protection (see below.)
Risks to children
Location settings
This is a major red flag for parents, as Houseparty's default geo-location feature can be used by predators to pinpoint children's exact location.
Data mining
When your child signs up to Houseparty, they are asked to hand over their entire contact list, which will be stored on the app's servers.
"If you choose to import your personal contacts from your mobile device we will access your personal contacts in order to identify users that you may know that are using the services and to provide other users with suggestions for potential connections based on mutual contacts," Houseparty's privacy policy explains.
Unless they choose "Skip" at this step, the app will set to work soliciting your child's friends—without their consent—for further business.
Hacking
Houseparty users are complaining that they have been hacked, reporting on social media that their PayPal, Netflix, Spotify, and online-banking accounts were compromised, according to a report by businessinsider.com. The company has denied these reports.
Porn-bombing
Houseparty is the latest app to be targeted for this new online nastiness, which involves users dropping inappropriate on-screen content—typically porn or their own naked images—without warning or permission. The trend has also been present on Zoom in the past few weeks, where it's become known as "Zoombombing."
On Zoom, it's an easy matter to find and access another person's group call—and it's the same on Houseparty. Experts advise users to keep their rooms locked if possible and to avoid adding strangers as friends.
Reporting online abuse
Houseparty provides no channel for reporting abuse. But users can block anyone while video-chatting with them by tapping on that person's chat screen to reveal the settings toggle, and "Private Mode" can be activated by tapping the pink settings wheel.
How should parents respond?
It's a tough call when kids are stuck at home and unable to see their friends through normal face-to-face channels. If your child already has Houseparty, or is asking for it, be sure to discuss the potential risks and to insist that Private Mode is activated.
Family Zone cyber expert Jordan Foster, a clinical psychologist and managing director of ySafe, advises,
"If used appropriately, this app is a great resource for teens. However, my concern is that without adequate supervision, this app lends itself not only to easy conversations with strangers but the
overwhelming possibility for endless chats. It's not dissimilar to an old school chat site, where new people come into rooms and you're notified every time a new connection comes along.
"Our suggestion is that this app is for users aged 13+, with teens between 13-15 not allowed to use the app late at night or close to bedtime. Using the app in a communal area is a great idea, with parents regularly checking in on the conversation content."
Most importantly, keep Houseparty—along with all device activity—out of children's bedrooms entirely, and prohibit screen-time of any kind at least an hour before bedtime.
Remember, wherever kids are going online, predators will follow—and Houseparty is no exception.