Young people can't get enough of TikTok - and with good reason. But it makes parents nervous - also with good reason. Now, the app has launched a range of safety features designed to address mounting privacy and abuse concerns.
Even before the coronavirus pandemic, TikTok was dominating the teen social media space. Today, with more than 100 million users worldwide, the free video-sharing app reigns supreme - its popularity surging on the back of school closures and other restrictions.
But parents have been understandably anxious about the app, as recent investigations have found kids as young as eight being groomed and bombarded by explicit messages.
Commonsense Media describes TikTok as "an interactive world of videos that lets you connect with friends and admirers through likes, comments, and even duets." Users can create short, shareable videos, or record and watch videos of themselves lip-syncing to popular music.
Sounds like fun, right? And it is - huge fun. That's the first point to understand. There's a reason kids - and increasingly adult users too - find TikTok so engaging. Its content is fast, furious, and often genuinely funny.
But there's a darker side to TikTok as well. Last year, the company was walloped with the biggest fine in the history of the US Federal Trade Commission - $5.7 million - for violating child privacy regulations. And the app has been widely recognized as a magnet for pedophiles and predators.
Public accounts by default
All TikTok accounts are public by default - and that means any one of the app's 100 million users can watch your child's videos. Even more concerning, they can also send them direct messages and use their location information. The new safety features - known collectively as "Family Pairing," attempt to address those risks.
Age restrictions
TikTok has always had age restrictions. Account-holders must be 13 and older, and those under 18 need parental permission.
Under the new safety features, direct messaging has been turned off, by default, for under 16's.
The new parental controls
The new features can be enabled on your child's phone and protected with a passcode. Or, parents can create their own TikTok account to manage their child's usage.
Either on your child's app or your own, tap the three dots at the top right of the user profile. Select "Digital Wellbeing." You'll see the following features:
Screen Time Management Here you can decide how much time your child can spend on the app, up to two hours per day.
Restricted Mode In theory, this blocks mature content, but cyber experts note that the workings of restricted mode are at best fuzzy but it seems to rely entirely on users flagging inappropriate videos. In other words, this feature is not the equivalent of setting parental controls on Netflix or the App Store.
Family Pairing This option lets you control the settings above, and also disable direct messaging, by syncing your account to your child's. It needs to be set up on your child's phone, using the Digital Wellbeing screen.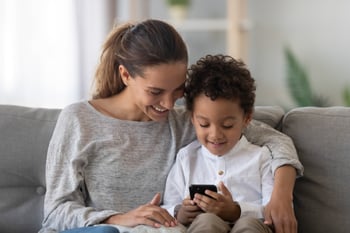 Can kids bypass these controls?
Yes, they can - easily. All they need to do is re-download the app and create a new account using a different phone number or email address.
The verdict
While welcoming any effort to protect young users, cyber experts have criticized TikTok's latest safety features as a case of too little too late. They maintain developers ought to have considered children's safety before launching the app, instead of applying a band-aid after the inevitable damage has occurred.
The company maintains "Promoting a safe and positive app experience is our top priority," and points to its in-app Safety Center, which offers a library of educational resources for users and their families.
"We also encourage parents to have an open dialogue with their children about how to be responsible and safe in all online activities."